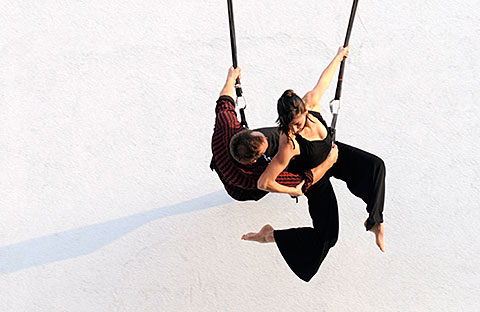 Formed in 2004 by Odile Gheysens, in-SENSO is a contemporary dance company which creates shows and performances using contemporary dance, vertical dance and Argentine tango. First and foremost is the desire to explore movement in its relation to the ground, to gravity and to weightlessness. The aerial dance pieces enrich the company's contemporary dance style as they encourage a different perspective on the ways we can use floor contact and the body's density. Through the company's extensive research, a process of analysing dance movement, considered as the body's « state of being », allows the company to work on expressing our perception by means of various choreographic languages. in-SENSO came into being with the piece Le Bercement des Créatures (« Rock a bye Creatures » ). Inspired by a child's poem, this piece features two dancers, one on the ground, the other suspended in the air. Together they forge a relationship which is playful and sensual.
Odile Gheysens met Éric Lecomte/Cie 9.81, aerial dancer and circus artist, when she discovered vertical dance with the dance & climbing company Roc in Lichen. Since 2004, they have been collaborating on the project Volibri ex-Suspend's, a choreographic aerial piece using acrobatics and weightlessness, performed on the walls of buildings, on historic monuments, on windmills and in the natural environment. They have also created Twice (2005-2010), a performance using video, choreography and weightlessness, and COLéOMUR (2009), an aerial performance piece for 4 aerial dancers, 4 musicians and an artist. Their strong complicity means they can perform on all sorts of surfaces, in all sorts of spaces. They use skills which they both share: contemporary dance and aerial dance, as well as their own personal technique ; circus and Argentine tango.
In 2015, she chooses a new team, more oriented towards dance.
Carried along by music
Meeting the pianist Rami Khalife was a revelation.
Rami has composed a number of original music scores for Odile Gheysens :
– 4104, written to accompany a light installation by Koert Vermeulen and an aerial danse piece by in-SENSO for Lyon's « Fête des Lumières » festival in December 2006. This performance piece questions what lies in store for us in the future.
– AKX, original music for a contemporary dance / Argentine tango duo, on the theme of walking, of circles and of repetition.
– Chaos, an original composition by Rami, who suggested that Odile choreograph a solo. This led to the creation of a piano and dance duo, enhanced by a stunning light installation. Chaos speaks of the war and of the way destruction creates a strange relationship between the protagonists.

– Popart by Rami Khalife and Francesco Tristano accompanies the piece Suspend's since its creation.
- Twice flows to the music of that other amazing pianist, Francesco Tristano.
In-SENSO's aerial performances are accompanied by the live music of Argentinian pianist Gerardo Jerez L Cam. Gerardo and Odile discovered they had a number of artistic interests in common and the same attraction to cultural « mixing ». They continue to collaborate on a regular basis.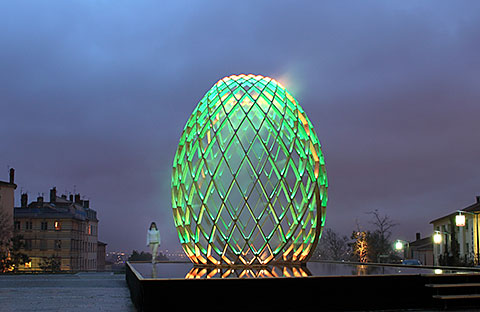 Video and Lights
The concept of using light to sculpt a given performance space became a reality when Odile met the lighting designer Koert Vermeulen (ACT lighting design). They currently have a number of major collaborations under their belt : Suspend's, Twice, Chaos and Akx.
in-SENSO also collaborates with the Toulouse-based group VSRK, who magically combine a duo of video-projection with simultaneous live painting using overhead projectors. in-SENSO also works with the Flemish team Fisheye, using video and motion-tracking.
Elements such as video, design and « clothes to dance in », like those of Faye Formisano, are all important, powerful ingredients which Odile sees as essential when working on the diversity and the plurality of the individual, a recurrent theme in her work.
Tangos
Odile has created a number of different pieces based on Argentine tango : all of them revamped and offbeat.
In 2007, she collaborated with Grégory Bonnault from the company Otentik, creating a contemporary duo based on the themes of walking and circling, AKX, which plays with the codes of Argentine tango. This piece won first prize in the 13th edition of the French choregraphic competition, « Les Synodales ». Odile then explored the theme of contemporary tango further with Surface, a mural tango with Simon Mayer, danced against walls in unusual places : metro exits, underground car parks, medieval alleyways, barns, etc.
In the same year she choreographed a piece set on a climbing wall for a tango-theatre show, Boca Nova, for the company Le Jour se lève.
In 2012, she performed Concert et Tango Argentin with the group Roulotte Tango, at the Andersen festival in Sestri Levante, Italy.
As an experienced Argentine tango dancer, Odile has danced with a number of different partners, such as Jean-Ronald Tanham and Grégory Bonnault, ranging in style from classical tango to more contemporary performances, accompanied by various tango orchestras : Roulotte Tango, Mano Santa, Dos Amigos, etc. She has also danced with Modos Vivendi and Cuarteto Cedron. In 2013, for Avignon festival, she co-creates Aaal tango!.
Odile participated in the creation Terra tango by Vincent Morelle, a piece commissioned by the Gent Festival Van Vlaarderen in Belgium.
ONE MORE? tangoperf is an ongoing project currently being researched. Result of many years of tango contemporary practice. Tango Addict « work in progress » version was presented at Seoul's Flower Festival in 2010 and 2013.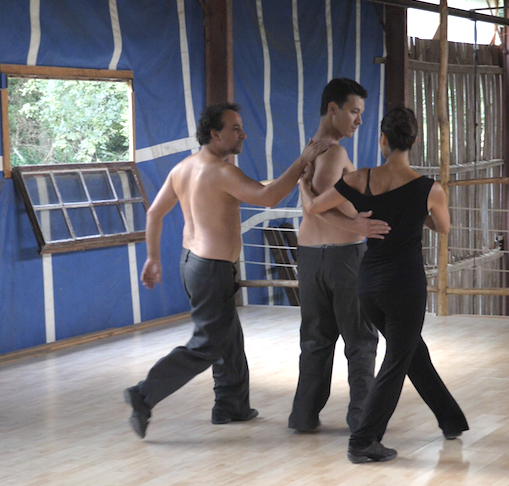 Master class
In 2010, in-SENSO, Odile Gheysens and Simon Mayer together created Entre//prise, a street performance involving 25 amateur Argentine tango dancers for the Festival Seine-de-anse, performed in the La Défense square in Paris. A video was made for the occasion by Bénédicte Bos.
For the Spiel Festival in Austria, Odile gave an aerial masterclass two years in a row, initiated by the Mayer brothers. She also led ther workshops in collaboration with Eric Lecomte / Cie. 9.81 for the « Jours de Cirque » festival with Circus Morallès and at Montdauphin for the festival « Vertical été ».
Odile Gheysens and Eric Lecomte / Cie. 9.81 have taught aerial techniques for the Circle Round master class, a European Cultural Project. They have trained young circus artists from across Europe (Belgium, Denmark, France and Romania).
Odile has also worked alongside the company Mossoux-Bonté and the company Bud Blumenthal in various school-based interventions for the Parisian dance festival « Iles de Danse ».